Over 4400 Competitors Participated in Wizz Air Sofia Marathon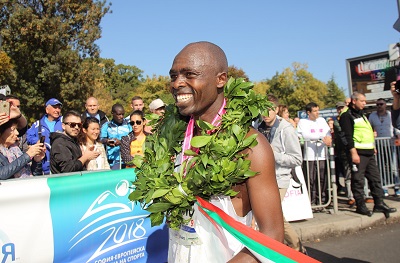 The Sofia Mayor Mrs. Yordanka Fandakova crowned with a laurel wreath the winner of the Sofia Marathon in the classical distance 42.195 km – Barmao Kiprono from Kenia.
The women's marathon ended with a final sprint, won by Ruth Matebo. She received her laurel wreath from the Minister of Sports Krasen Kralev.
The record 4410 competitors participated in the thirty-fourth Sofia Marathon, including 744 foreigners from over 40 countries. All of them were greeted by the dozens of thousands spectators along the route, which passed along some of Sofia's most beautiful and green boulevards.
The organizers of Wizz Air Sofia Marathon were the Sofia – European Capital of Sport Foundation., the Sofia Municipality, the Ministry of Youth and Sports, the Bulgarian Olympic Committee, the Bulgarian Athletics Federation.
This year the marathon was once again part of the initiative – Sofia – European Capital of Sport. The competition was valid both as a national championship and as the final of the Bulgarian Athletics Chain, under the "Running – a Way of Life" motto.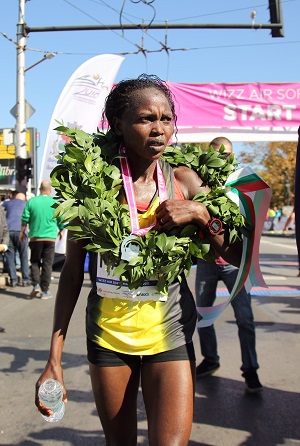 Radosveta Simeonovo ("Dobrudzha") ranked first among the Bulgarians with 2 hours 46 min. 10 sec., making her the National Champion.
Kenyans won all the three first positions in the half marathon at 21 km. Nelson Cherutich won the title with his 1 h 05 min 58 sec.
A Kenyan won the women's title as well – Kristine Oygo won her gold medal with a time of 1 h. 15 min. sec.
The 10.5 km race was won by the Serbian Olivera Yevtic – 37 m. 37 sec., followed by Dilyana Minkina (Sofia) 39 min. 44 sec.
The mass 3 km race at, with over 1300 participants. The fastest among them were: Deva-Maria Georgieva, followed by Elitsa Todorova and Silvia Stefanova, and Ivaylo Hadzhiev won the boys' race, followed by Gencho Dimitrov and Ivan Dragnevski.
By tradition, the Sofia Marathon involves numerous charities: VIVACOM's Spare Change collects money for children with multiple disabilities, treated at the Day-Care Centre "Centre for Hope" in Sofia, and the ECO Filling Stations chain once again collects money for children with autism, as every kilometre, run by their employees is multiplied in cash. Another charity of "Running 4 those who can't" organization collects money for purchasing special chairs for children, who cannot run.