Mrs. Fandakova: To remember the Unification means to know that our greatest strength as a nation is in standing together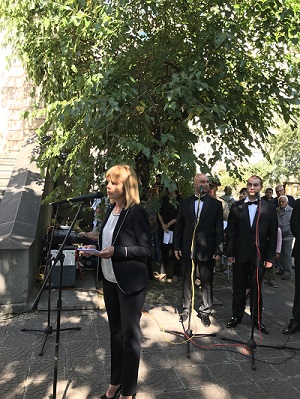 "To remember the Unification means to know that our greatest strength as a nation is in standing together." This is what Mrs. Yordanka Fandakova – the Mayor of Sofia said during the celebrations of the 132th Anniversary of the Bulgarian Unification at the Mausoleum – Tomb of Alexander I of Battenberg in Sofia. "We now need this lesson and this example of inexorability in defending the aspirations of our nation", added the Mayor of Sofia, emphasizing that Unification is the cause, supported by the inexorable Bulgarians of that time. It is necessary to remember the names of Knyaz Alexander I of Battenberg, Zahari Stoyanov, Stefan Stambolov, Georgi Stranski, Danail Nikolaev and numerous others, who had the will and courage to declare the Bulgarian Unification and show that Bulgarians have the strength to write their own history.
Mayor Fandakova also said that the decisions of the Congress of Berlin did not succeed in breaking the Bulgarian spirit and merely 7 years later, Bulgarians imposed their own will, without asking for support. "The Bulgarian Unification showed that the major causes, supported by the unbending Bulgarian spirit, can write both our own and the European history, with audacity and dignity", Mrs. Fandakova continued. The strength of a nation is in the strength of its spirit, in the height of its goals, in the unity and aspirations of the hearts, and in days of wandering, its light illuminates the way", Fandakova said. According to her, the Unification shows that what unites us is the wellbeing of the Bulgarian people.
The Unification was the climax of the many years of continuous struggles and efforts of our divided homeland. These were the words of the Chairman of the National Assembly – Mr. Dimitar Glavchev – pronounced during the ceremony. "Now our entire nation celebrates for the 132nd time one of the brightest dates in our modern history – the Unification Day. We commemorate the glorious days, when the national spirit and common will found their brightest manifestation", continued Mr. Glavchev. He added that on the 132nd anniversary of that historical day we must acknowledge the fact that a nation is only united, when it moves forward, united by common goals. "Now we have a shared duty – both to the memory of the Apostles of the Bulgarian Liberation and Unification and to the present and future of our country, to our ancestors and children", the Chairman of the National Assembly said.
The ceremony, commemorating the 132nd anniversary of the Unification was attended by Deputy Mayor Doncho Barbalov, municipal councillors, representatives of patriotic organizations and regular citizens.
The celebrations included a re-enactment of the events that took place 132 years ago, the National Alliance Edinenie (Unification).