Fandakova met with winners of the hackathon Global Tech Summit (Java2Days)

Mayor Yordanka Fandakova met with award winners of the hackathon Global Tech Summit (Java2Days) at the Sofia Innovation and Entrepreneurship Laboratory and invited them to participate in the newly opened space for entrepreneurship and digital technology. About two months ago, Sofia Municipality opened the new laboratory within the project "Unlocking the potentials for business and social innovation in the Danube Region" (NewGenerationSkills), co-funded under the Danube 2014-2020 Programme.
Mayor Fandakova acquainted herself with the awarded projects, which who are in the field of artificial intelligence, security, healthy nutrition (Suupa), business communications (Skipdat.com).
Tito Hamze of TechCrunch attended the meeting and said that Sofia is beautiful and he was happy to meet here people with 'big ideas'. In response, Mayor Yordanka Fandakova stressed that for her "The people are the City". She shared her vision of Sofia as a green and innovative city. "Therefore, the innovative ideas of start-up companies that creative young people like you are developing are particularly important", said Fandakova.
Sofia Municipality supports initiatives that promote our city as an innovative centre. For several years, we have been organizing national, and this year a Balkan hackathon where programmers solve important societal problems and tasks, also said the mayor of Sofia.
Sofia ranked among the top 30 fastest growing cities in the ranking of 300 cities produced by JPMorgan Chase. For the last 10 years, Sofia is the European capital with the highest GDP growth according to survey by Bloomberg Foundation and ranked in the top 3 European cities in start-ups in the IT sector.
Fandakova gave several examples of start-ups that the municipality has recruited to work for the city in the field of waste management, urban mobility and in the social sphere. The municipality develops forms of support and funding through various programs and through the Municipal Guarantee Fund.
The municipal lab provides training for entrepreneurship and digital technologies to young people aged 18-25. It hosts meetings and trainings.
More information about the project can also be found on social networks: New Generation Skills #SofiaLab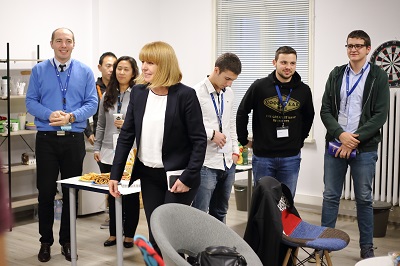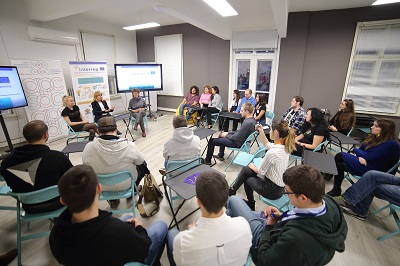 Photographer: Geo Kalev